Chang'e is the best Mage hero who is included in the list of heroes that are often played in Mobile Legends. Now for those of you who want to try this one hero, here is the Best Build Item for Chang'e Mobile Legends (ML) Ala Lemon?
Chang'e has a cute character with abilities similar to the queen of the moon. This one hero mage has been revamped some time ago and is the best mage hero with high damage.
Also read: How to Use the Best Chang'e Mage in Mobile Legends
This is the Best Build Item for Chang'e in Mobile Legends (ML) Ala Lemon:
Magic Shoes

Magic Shoes are shoes that can have a cooldown effect on the user. This item has 40 Movement Speed ​​which is useful so that Chang'e can easily roam.
Glowing Wand

The second Lemon-style Chang'e Best Item Build in Mobile Legends (ML) is the Glowing Wand. This one item provides +75 Magic Power, +400 HP and +5 Movement Speed.
This one item has a unique skill that can increase damage when attacking the same hero by 2.5%. Glowing Wand is perfect for Chang'e in the early game.
Also read: 8 Mage Heroes ML Push Rank Pain Season 16 Mobile Legends
Ice Queen Wand

The next item is the Ice Queen Wand which is Chang'e's second item. This item can provide +75 Magic Power, +10 Magic Lifesteal, +150 Mana and +7 Movement Speed.
Ice Queen Wand is the only item that gives Chang'e lifesteal. Even though it's only a little, this item has a Slow effect on the enemy by 15% which can stack up to 2x in 3 seconds.
Genius Wand

As a Mage hero with the ability to Burst Damage, of course you will face enemy tank heroes. Therefore, Genius Wand is needed here as the Best Build Item for Chang'e Mobile Legends (ML) Ala Lemon.
This item has 75 Magic Power, +5 Movement Speed ​​and a unique skill of 15 Mgaic PEN which can attack various enemy Tank heroes with ease.
Also read: 3 Build Talent Emblem Mage Mobile Legends
Windtalker

Windtalker is a Physical item but you can use it for Chang'e. The use of this item is none other than to take advantage of its Movement Speed ​​and Attack Speed.
Also read: 10 Deadly OP Heroes for Season 16 of Mobile Legends
Windtalker gives 10% Critical, 40 Attack Speed ​​and 20 Moevement Speed. As for the unique skill, which will provide magic damage that spreads to the attacked area for a few seconds.
Divine Glaive

In the Late Game, some of the enemy tanks are hard to beat. Therefore, you must use items with Magic Penetration abilities.
Now Divine Glaive can give you a Magical Pen of 40%. This item is perfect for fighting a very tough Tank in the Late Game.
Custom Emblem and Spell Change Mobile legends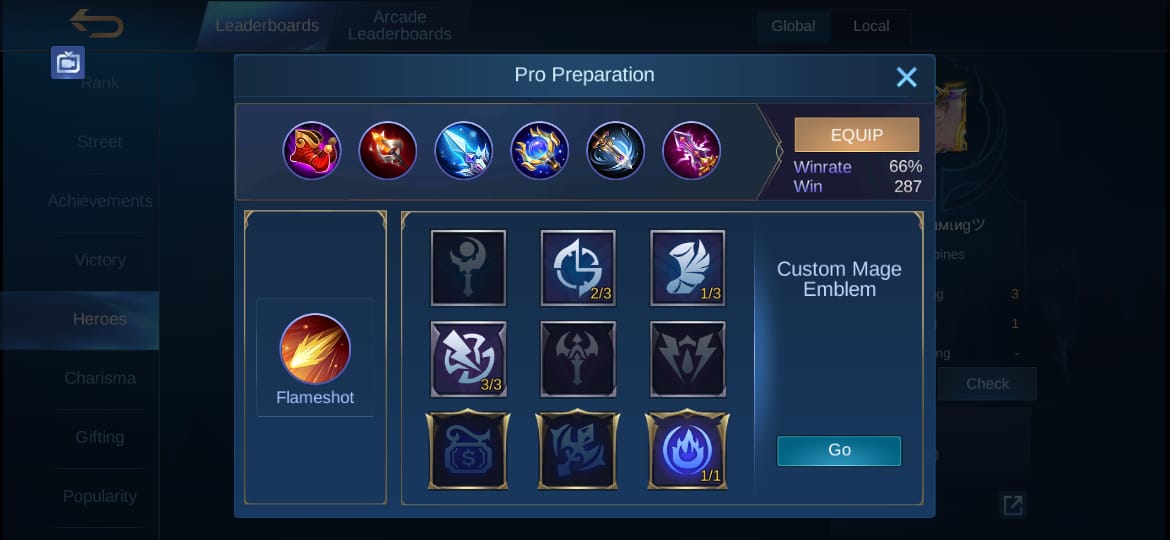 For those of you who want to try the best build items for the Chang'e hero, here are the best builds that we summarize in the ranks of Top Global Chang'e Mobile Legends users.
In Season 16 of Mobile Legends, Chang'e usually uses the Battle Spell Flameshot with a combination of the Custom Mage Emblem that you can see above.
Now that's Chang'e's best item in Mobile Legends Season 16. This Chang'e item relies heavily on Magic Penetration as a source of damage. This is to maximize Chang'e's ultimate skill with a burst type and rely on large damage.