How to Play Among Us Version of Dota 2. The game developed by Innersloth, namely Among Us, has become one of the most popular games in the past few weeks.
The game, which has been released since 2018, has gained popularity during the pandemic of the corona virus (Covid-19) that has hit the world, so many people spend time with friends playing games.
But Among Us is apparently present in the game made by Valve, namely Dota 2 in the Dota custom game, so we can enjoy playing Among Us with the sensation of Dota's heroes.
This game is called "Dota 2 Among Us Edition" which is a remake of Among Us in the style of Dota 2. The main feature that sets it apart from the original game is that Each hero has unique abilities when playing as Impostor, so that it will add depth to the game.
ALSO READ: Apparently Alter Ego Had Dota 2 Division!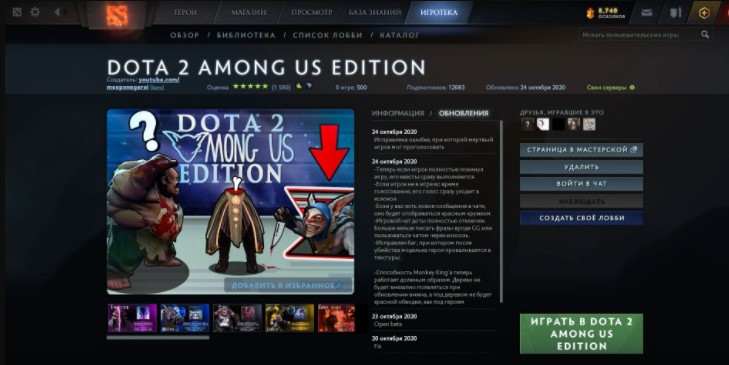 If spinners want to enjoy playing Among Us, here's how:
Downloading the game in the Dota 2 client, start by searching for and subscribing to

'Dota 2 Among Us Edition', at the official steam workshop

. After that you can find the game on the Arcade Tab inside the game.




Choose your hero and you will randomly get the role of a crewmate or impostor. For 10 players, there will be 2 Impostors.
How to play as Crewmate:
Complete all tasks on the map. When the "Total task" reaches the end or there are no Impostors left in the game, the Crewmate will win.

By clicking the bell in the center of the map or by finding a corpse, you will take a vote. On voting, you, through discussions with other Crewmates have to find Impostors and execute them.

If you are killed, you cannot speak, but you can still perform tasks in the spirit form.
How to play as Impostor:
Impostors can win if they kill all civilians or they outnumber them.

Impostors have the following capabilities:

The ability to kill once every 30 seconds

Unique abilities of heroes: Unique abilities depend on the hero and help you avoid being accused.

4 sabotage.
So how about spinners? interested in trying this version of the game Among Us? Don't forget to visit the SPIN Website for other latest updates, and follow our Instagram and Youtube.