The video games industry as well as the esports industry is starting to get attention from platform other.
Of course we know one gaming platform Of particular interest is Twitch becoming a professional player's favorite to perform live streaming.
Apart from Twitch, there is also YouTube which makes features so that professional players can use it in doing so live streaming, namely YouTube Gaming.
Facebook even followed YouTube to make special features gamingher, which was named Facebook Gaming.
Do not want to be left behind from its competitors, Snapchat is also present gaming platformnamed Snap Games.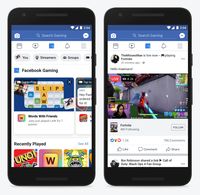 The platform was launched on April 4, 2019, which Revival friends can use without having to install game first.
You can see this Snap Games Revival friend in the Snap Chat application on the right bar next to the box chat.
Buddy Revival can invite friends to play together while sending messages.
Snap Games also has a feature voice chat that makes Revival friends can become toxic, hehe.
ALSO READ: Ubisoft Donates 8 Billion Rupiah for the Rebuilding of Notre Dame
So far, Snap Games presents 6 games which can be played, namely:
Bitmoji Party
Tiny Royale
Snake Squad
CATS Drift Race
Zombie Rescure Squad
Alphabear Hustle
If platform This is a success, it does not rule out that Snapchat will work with video game developers to enter gamesher to platform brand-new.
Editor: Yubian Asfar