For now, a battle royale type game is still the best in the future. Of course, this type is enough to dominate the games that exist in Android today. Free Fire is a game of this type, but this game is quite famous. Because it is proven, that it already has a lot of total players. This time there is the newest Gun Skin Box FF P90 Punisher Free Fire that you can get!
For now, the Free Fire game is often given lots of updates and the latest events that are quite unique. So that all the players, too, will definitely start to like this. Reportedly, there will be a new Wolfrahh character coming into the Free Fire Game now.
Also Read: 4 Character Formations in the Best FF Auto Booyah Squad Free Fire
So that way, later he will add data and slots in the Free Fire Character Feature which currently only reaches Kapella. All the characters present, of course, have a variety of abilities that are unique enough for you to try.
In addition to the new character, Garena also presents a new weapon called the M82B. Where for this weapon, it has a type as a Sniper Rifle in the game. So of course, the abilities of this new weapon will later become Meta in Free Fire.
If you pay attention to the Shop, you must know the name Gun Skin Box. So in this box, there is a weapon skin with different durations. It can be 1 day until permanent, depending on your luck.
Also Read: The FF Cheater Outside Free Fire Servers Has Started to Be Addressed
You have to use Diamonds to buy it, and for now the Free Fire game also has a new, pretty good Gun Skin Box. Curious? Check out the explanation below.
The Latest Gun Skin Box Free Fire – P90 The Punisher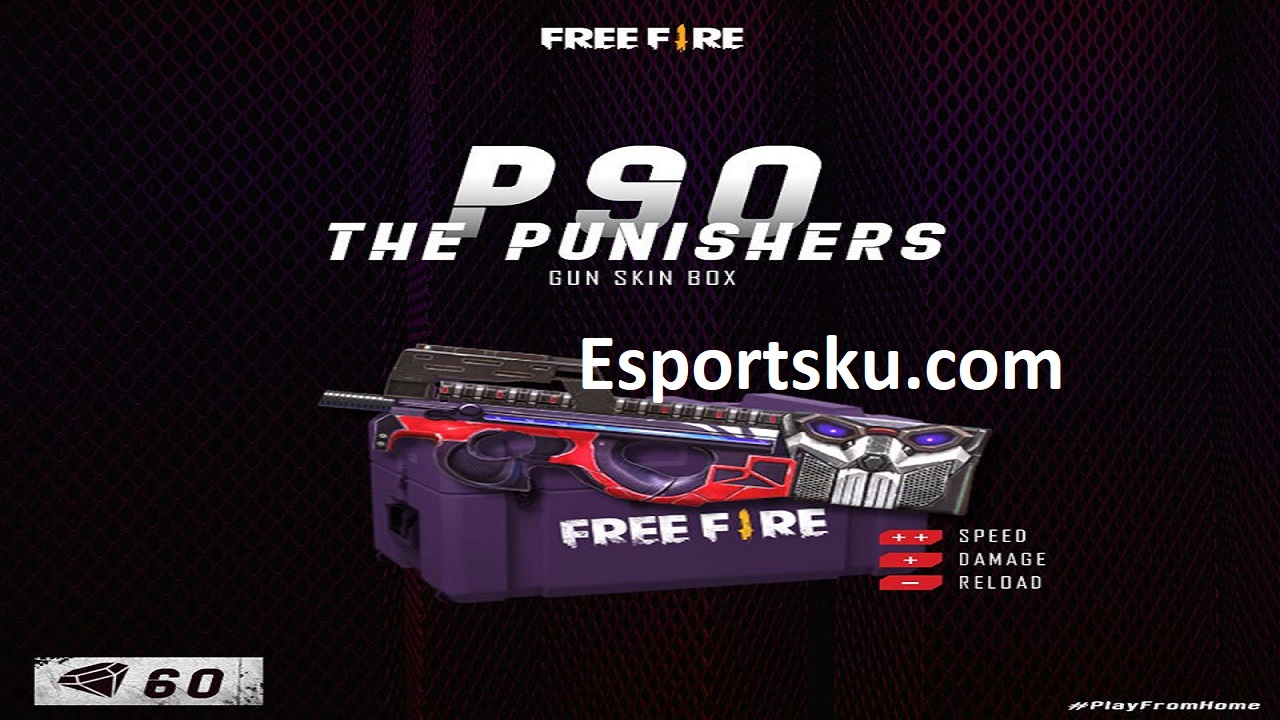 Today, on the Indonesian server Garena released a new Gun Skin Box which is good enough for you to collect. In the past, this weapon skin was present in Weapon Royale. So you basically, you have to be able to get this cool weapon skin.
Even when it comes out in Weapon Royale, it turns out that this Weapon Skin is the best for you to use. In the past, there were many players who already got this weapon skin, of course, using the Tips for Getting the Grand Prize in Royale.
Skin Has a Cool Appearance!
That way, of course, all of them will get weapon skins easier than usual. So in this way too, you might be able to do it when you buy the Gun Skin Box. The P90 Punisher, does have a very cool appearance.
Also Read: Free Leaks of Free Fire Incubator Tickets on Top Up May Punk FF 2020
So for now, those of you who used to miss can get it directly through the Gun Skin Box. But we need to remind you first, because you have to prepare 60 Diamonds to buy the Gun Skin Box.
Even though you have bought it, all of you will definitely have thought that Weapon Skins are Useful or Not. But most people, say this is quite useful. Where is the weapon's skin, it will increase the stat for the better.
For this weapon skin alone, stat increases in Fire Rate and Damage. But unfortunately for the Reload Speed ​​section, it has a fairly small reduction.
Also Read: How to Get Bedug FF Tokens May 2020 Lebaran Free Fire, Free Shani!
So, of course, if this weapon skin has been obtained, you basically have to try and learn to use the P90 Weapon. In this way, later all of you will be able to have pretty good weapon skins and abilities.
That's it, Thank You and Greetings, Booyah.
---
If you want to get lots of information about the Free Fire game. Don't Forget to Follow and Like Our Fanspage on Facebook, so you don't miss any other information.