Every month Moonton always presents the latest updates on the Mobile Legends game. In the latest Mobile Legends Patch Note 1.4.86 update, Moonton will provide a lot of buffs to the Tank hero, which most likely, at the beginning of season 17 will become a meta tank in Mobile Legends.
In playing meta tanks in Mobile Legends, usually in one game it will consist of 2 tank heroes, now interestingly, the latest Mobile Legends update provides several tank heroes to buff, one of which is Gatotkaca, Balmond which we have previously reviewed.
Now on this occasion, we will discuss what are the latest Mobile Legends updates on patch note 1.4.86 which will start in season 17 on 20 June.
Mobile Legends Update Patch Note 1.4.86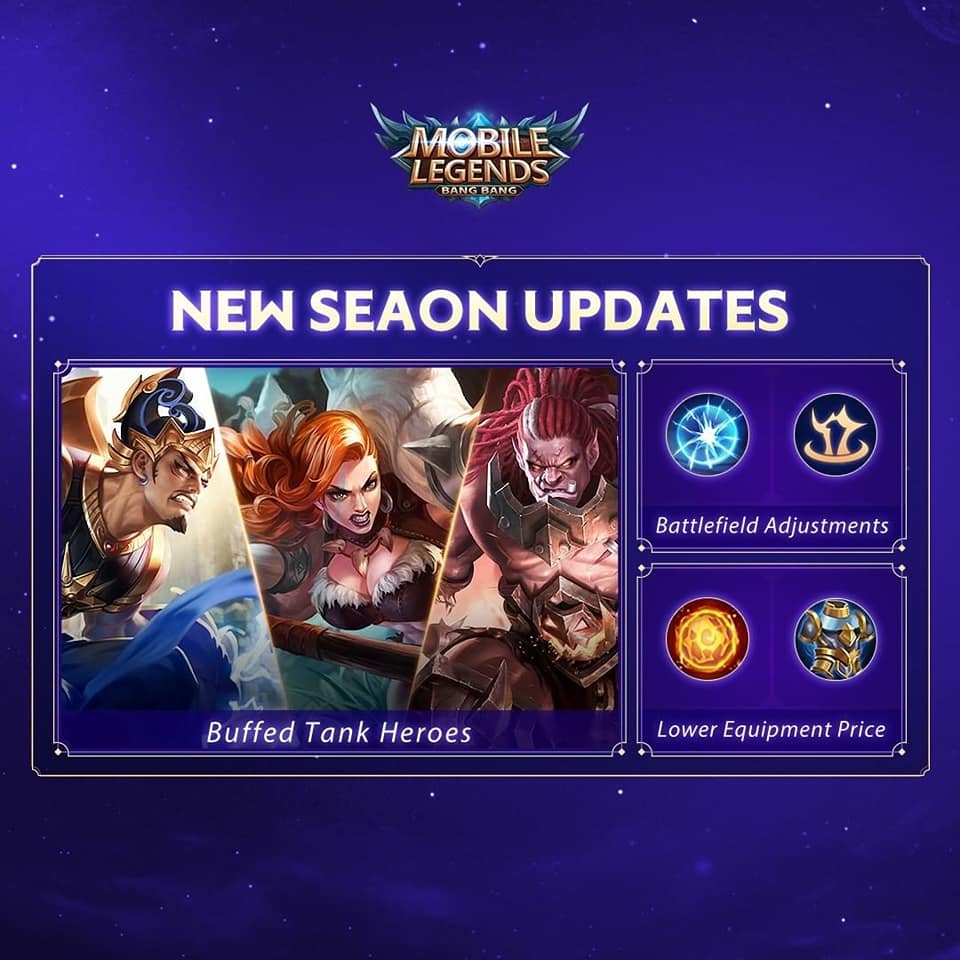 This time there are some important points that you must know in the Mobile Legends game, starting from several buff heroes, to gameplay adjustments and the latest talent in Mobile Legends Update Patch Note 1.4.86.
Of course, knowing some of the updates that are present in Mobile Legends Patch Note 1.4.86 will present the latest meta and some adjustments in the way you play when the season 17 of Mobile Legends starts.
Some Heroes Who Get Buff in Mobile Legends
So first, we will discuss what heroes will get buffs on the latest Mobile Legends Patch Note 1.4.86 update. Here's the list.
Gatotkaca – Mighty Legend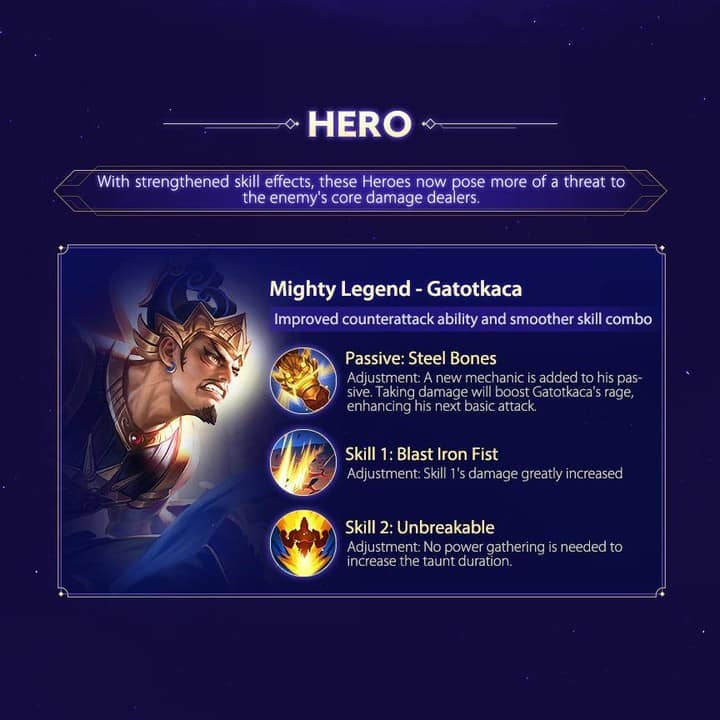 Gatotkaca received a significant buff by Moonton, changes occurred in his passive skills which were increased to smoother counter attack abilities and combo skills.
Then, Gatotkaca's passive skill, Steel Bones, will be adjusted to a new mechanism that has been added to his passive and will receive damage and rage and strengthen the next basic attack.
Then adjustments to skill 1: Blast Iron Fist with increased damage drastically. In addition, in skill 2: Unbreakabale, Moonton adjusts the gameplay. This skill will not need to collect power anymore to dash towards the enemy and the most interesting thing is the duration of the stun effect is buffed.
Hilda – Power of Megalith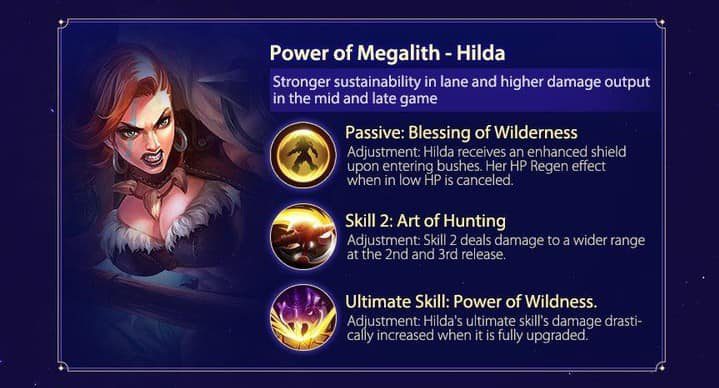 Next there is the hero Hilda who is again buffed by Moonton. Some of the buffs given by Moonton start from the endurance in lane Hilda aka stronger to higher damage output in the mid lane to late game.
In addition, Hilda's passive skill "Blessing of Wilderness" provided several adjustments to the shiled effect which was strengthened after entering the bush. Then, the HP Regen effect will be removed when Hilda's HP is low.
Then in skill 2: Art of Huntig is given an adjustment starting from the damage given by Hilda will be wider in use. Whereas in the ultimate Hilda, it provides adjustments by drastically rooting the enemy when it is fully updated.
Even though Hilda gets nerf on her passive skill. But in other skills, Hilda was given a buff by Moonton.
Balmond – Berseker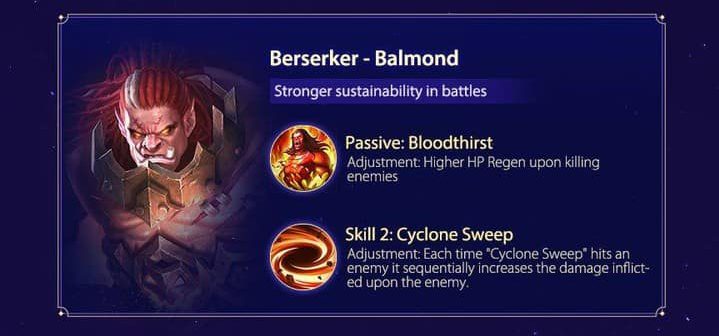 Then on Balmond's hero, Moonton provides a buff for stronger endurance in every battle in Mobile Legends.
Balmoond's passive skill is adjusted to the effect of higher HP Regen after eliminating the opponent. Whereas in skill 2, "Cyclone Sweep" the adjustment occurs every time Cyclone Sweep hits the opponent. Then the damage given to opponents will continue to increase.
Ruby – The Little Red Hood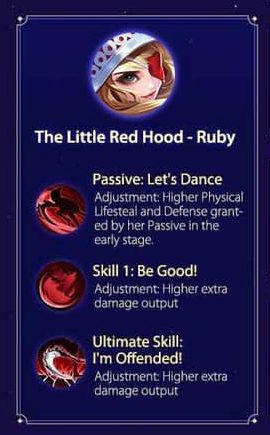 Next adjustments occur for Ruby heroes who get Buff in Mobile Legends, especially on Ruby 's passive skills with higher Physical Lifesteal and Defense adjustments. In addition, the 1st skill, "Be Good" and also the Ultimate Ruby Skill will provide a higher output of additional damage. With this, Ruby might be included in meta season 17 later.
Johnson – Mustang

Next, there is the Johnson hero who gets a buff in the latest upcoming update. The buff given by Moonton lies in Johnson's overall skill which will now hurt even more. Then for the ultimate skill it will take faster time. With this buff, Johnson will be faster when transforming and have higher damage.
Baxia – Mystic Tortoise

Next there is the Baxia hero who gets a buff on skill 1 "Baxia Shield Unity with higher damage than the longer stun duration can be achieved when you first use the Baxia skill. In addition, there is a lower cooldown between each jump when Baxia lands.
Opponents who will be hit by the Baxia skill will get a stun effect for a shorter time and receive lower damage.
Grock – Fortress Titan

In Grock's hero there is a lower Mana adjustment and higher Physical Damage. With this buff, it is possible that Grocka will return to the latest Mobile Legends meta.
Customizable Battlefield Mobile Legends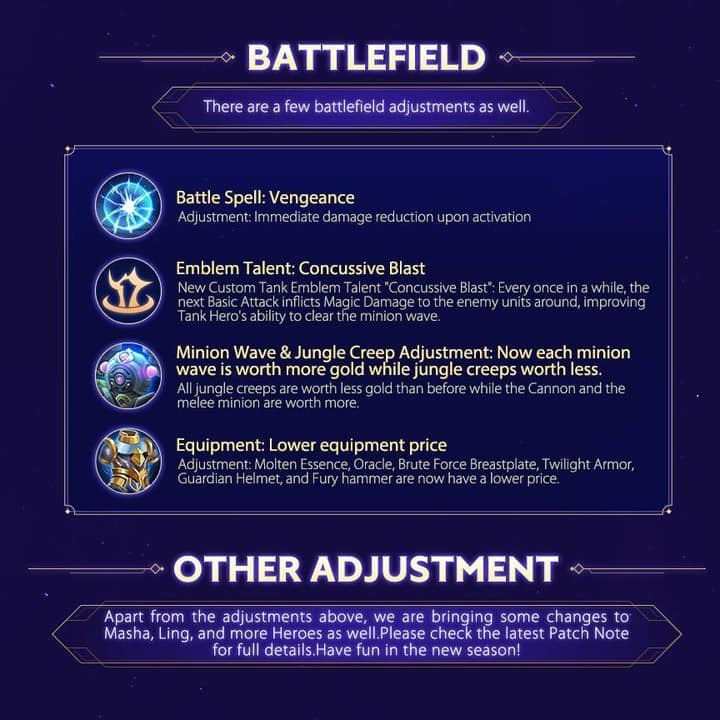 Next are some Battlefield adjustments that will be found in the latest Mobile Legends Season 17 update.
Battle Spell: Vengeance
Direct damage reduction adjustment when this battle spell is activated.
New Talent Emblem: Concussive Blast
Next we will have the newest talent for Emblem Tank. The effect of this talent has an effect. Every time the next Basic Attack will deal Magic Damage to nearby enemy units and increase the ability of the Tank hero to give Wave minions.
Wave Minion and Creep adjustment
Later, each wave minion gives more gold while jungle creeps give a little gold. So that for farming matters in the latest season it looks like it will be more profitable to clean creeps than forest monsters.
Lower Equipement Prices
Now the last, are some price reductions on Molten Essence, Brute Force Breastplate, Twilight Armor, Guardian Helmet and Fury Hammer items which will now have cheaper prices.
Now that's all the discussion of Mobile Legends Upate, the latest Patch Note 1.4.86 in the Mobile Legends game. Of course, with this one update the meta rotation in Mobile Legends will change.
Hopefully the discussion of the new Mobile Legends update will be useful, especially for those of you who are Mobile Legends players. Hopefully Helpful and happy playing the Mobile Legends game.