Riot Games seems to have made some moves in early 2019, after partnering with Alienware to become the PC provider for the tournament League of Legends.
This time, Riot Games collaborates with Tencent. The two giant companies are working together to create a joint venture called TJ Sports in China.
hThe announcement of this collaboration between giant Chinese technology, Tencent Games and Riot Games, was launched at the 2019 China League of Legends in Shanghai.
The announcement of the collaboration was attended by Nicolo Laurent, CEO of Riot Games, and several executives from Tencent who announced that the two companies had formed a joint venture called Tengjing Sports.
It was stated from one of the Chinese media, that Tencent Games held 50% shares and Riot Games held 50% shares of Tengjing Sports (TJ Sports).
TJ Sports itself will focus on all esports businesses League of Legends in China. This includes tournament organization, talent management, and also tournament venues.
TJ Sports itself has appointed Jin "Bobby"Yibo and Lin"LeoSong as Co-CEO of TJ Sports.
The company announced that in 2019 it will collaborate with the League of Legends Pro League (LPL) and cooperate with Mercedes-Benz as the main partner.
In 2018, LPL itself broke the audience record of 15 billion. With this record attendance, LPL will look for the main sponsor of the tournament.
For those who don't know, Tencent Games is a major game development company in the world, one of which is AoV.
Meanwhile, Riot Games is the game developer League of Legends this has actually been acquired by Tencet games in 2015.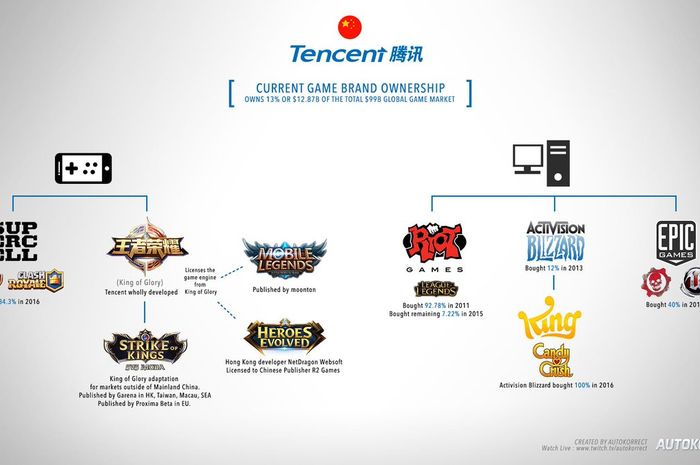 Wow, League of Legends this is likely to be increasingly successful in China, about competitors LoL as Dota 2 and CS: GO will make a breakthrough like what?
We'll wait, remember LoL enter as'big three'esports which has done many great collaborations.
And it seems Dota 2 and CS: GO lose start in early 2019 to attract the attention of world esports activists.
Editor: Yubian A. Huda